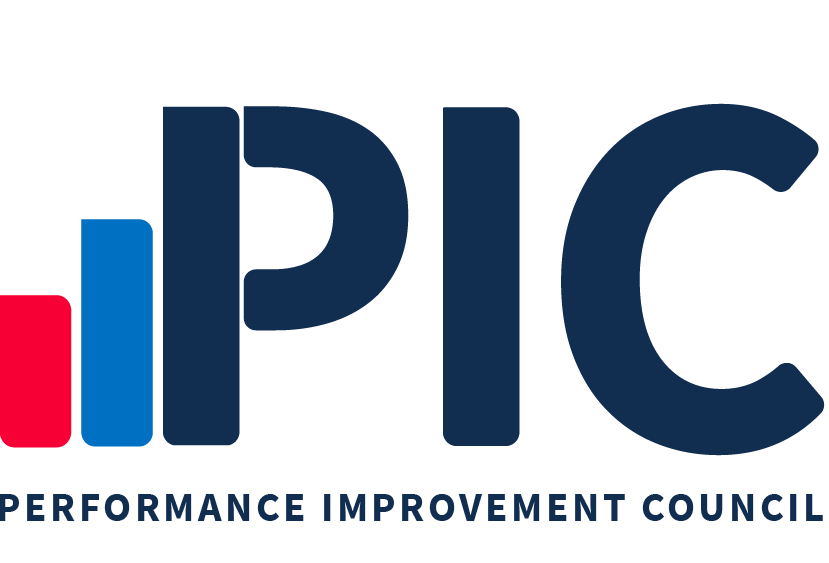 The Performance Improvement Council (PIC) is the heartbeat of government performance management.
About the Council
The Performance Improvement Council (PIC), a government-wide body that supports cross-agency collaboration and best practice sharing, was established under Executive Order 13450 in 2007 and codified in law under the GPRA Modernization Act of 2010. The PIC is chaired by the Deputy Director for Management at the Office of Management and Budget within the Executive Office of the President. The membership of the PIC includes Performance Improvement Officers (PIOs) and associated staff from federal agencies. The Council meets regularly and convenes a number of government-wide working groups to foster dialogue and best practice sharing among agencies.
---
What We Do
With the Government Performance and Results Modernization Act of 2010 (GPRAMA), Congress established the Performance Improvement Council (PIC) to assist the Director of the Office of Management and Budget (OMB) to improve the performance of the Federal Government and achieve the Federal Government priority goals. Under the direction of OMB, the PIC:
Works to resolve specific government-wide or crosscutting performance issues.
Facilitates the exchange among agencies of practices that have led to performance improvements within specific programs, agencies, or across agencies.
Coordinates with other interagency management councils.
Gathers assistance, information, and advice from federal agencies, including smaller, nonmember agencies.
Provides insight into the performance improvement experiences of corporations, nonprofit organizations, foreign, State, and local governments, Government employees, public sector unions, and customers of Government services.
Develops recommendations to streamline and improve performance management policies and requirements.
---
Our Objectives

Optimize cross-council coordination and service delivery: The PIC will synchronize efforts across councils for a more holistic approach to federal management.

Deliver useful resources to stakeholders: The PIC's tools, training and facilitations help agency practitioners hone their skills and learn from others successes to get the job done.

Unite the performance community: The PIC will continue inspiring collaboration, relationship-building and knowledge-sharing by offering opportunities for our stakeholders to build a strong network.

Improve federal performance reporting: The PIC will continue to develop a long-term and modern performance.gov platform to increase transparency, hold agencies accountable for performance, and highlight performance management best practices.

Enhance performance and mission achievement: The PIC will focus on using performance management practices to help shape agencies' progress towards mission achievement.
---
Role of the PIO
The GPRA Modernization Act requires agency heads to name a PIO who is a senior executive reporting directly to the Chief Operating Officer (COO). Agency PIOs advise and assist agency leadership to ensure that the mission and goals of the agency are achieved through effective strategic and performance planning, measurement, analysis, regular assessment of progress, and use of high-quality performance information and other evidence to improve results. Some of the roles they play within their agencies include the following.
Supporting agency leaders in setting goals, reviewing progress, making course corrections, and making results transparent by:
Advising all organizational components in strategic and performance planning.
Facilitating frequent data-driven reviews using data, analysis, and evaluations to promote organizational learning.
Communicating goals, progress, and challenges within the agency and to the public.
Working across the agency to improve operational effectiveness and efficiency by:
Assisting other agency officials, including component and program office managers, in efforts to improve and communicate organizational performance.
Working with the Evaluation Officer to strengthen the integration of evaluation and evidence-building activities with performance management.
Supporting the work of Data Governance bodies and Chief Data Officers in identifying and using data to carry out various functions, and priorities for managing data assets support the agency's mission.
Partnering with Chief Financial Officers to evaluate resource allocations and incorporate performance information in agency budgets.
Working with Chief Information Officers and Chief Acquisition Officers to ensure capital investments advance organizational goals in strategic and annual plans.
Coordinating with Chief Human Capital Officers to align strategic human capital management planning and practices to mission priorities.
Helping agency program managers and goal leaders promote the adoption of effective practices to improve outcomes by:
Selecting meaningful goals and measures.
Designating accountable goal leaders.
Running effective, regular data-driven progress reviews and identifying course corrections.
Communicating goals, measures, analysis, and results.
Managing risks to priorities and goals.