Meet the woman behind more than $20 million in annual Federal Government savings and a 20 year partnership between GSA SmartPay and GSA Fleet.
If you have ever driven a GSA Fleet leased vehicle, it was most likely one of the 226,000 vehicles utilizing a fleet charge card supplied by Jenny Kane and her team. This team ensures that each vehicle is gassed up, maintained, and repaired using its own GSA SmartPay Fleet charge card. And with every swipe and tap, dollars are saved and refunds are earned for the taxpayer.
Jenny began her career as a student aide around the same time GSA was developing a new consolidated Federal Government charge card and payment solutions program called GSA SmartPay. Her first job was sorting through vehicle paper charge card receipts to find instances of fraud or misuse. As new technology emerged and systems were established, she became obsessed with making the Fleet program more efficient. Early on, she saw the advantage of increased savings by using the GSA SmartPay program. Each GSA Fleet vehicle receives its own charge card, which is used for fuel, maintenance, and repair for that specific vehicle. By using this card the government is able to access refunds or rebates, saving GSA and taxpayers money.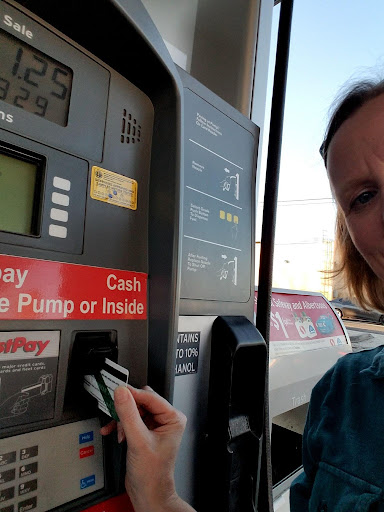 Jenny Kane gasses up a GSA Fleet vehicle using a GSA SmartPay Fleet card.
Today, Jenny is the branch chief for Business Intelligence at GSA Fleet, which includes the Loss Prevention, Data Analytics, and Payment Processing Teams. She is also the subject matter expert for the GSA SmartPay Fleet Card program both at GSA Fleet and to assist other agencies.
Jenny uses her curiosity, innovation, and creativity to lead her team into the future, always staying on top of new developments in the industry. After 29 years, she states, "I have never gotten bored with the fleet cards, there is always something new to learn. I love learning what other fleets are doing and taking that learning and applying it to our fleet."
Jenny continues to use the GSA SmartPay program to save money for the government, not only in the typical way you would think - using plastic charge cards for fuel - but also by taking advantage of new products and services like virtual cards.
GSA Fleet uses GSA SmartPay virtual cards to streamline the payment process for maintenance and repair, short term rental purchases, and vehicle transports. The virtual cards are easier for customers to use because the payment and reconciliation process is automated. In addition, they reduce fraud and misuse by generating more data. Using the data from the program, Jenny's team regularly runs a wide variety of data reports and are easily able to flag questionable purchases that would have been difficult to find otherwise, like a vehicle getting too much fuel or duplicate transactions. By correcting these instances, the Fleet program is able to make sure cardholders follow Fleet policy and correctly manage dollars spent.
"If something isn't working, it is our obligation to speak out on behalf of the American taxpayers and fix it," Jenny said. By taking every opportunity to make the Fleet program more efficient and effective, Jenny has been able to save an estimated $20 million annually in fuel taxes, waste, and refunds. In fact, the GSA Fleet touches almost every agency in the Federal Government and that annual savings is shared among those agencies.
Jenny is able to realize these savings through a savvy contract, which allows multiple awards (via task orders) to be given to multiple banks. By doing this, "It allows our organization to focus task orders on items that are unique to our program management," Jenny said. "Additionally, the refunds and ability to reclaim taxes permit us to pass those savings onto customer agencies."
By using this contract, Jenny is able to tailor Fleet's task order. For example, including an Electronic Maintenance and Repair Authorization System (EMRAS) speeds up the process for maintenance authorizations through an online system. This system is connected to many different merchant invoice systems, which allows for higher levels of data than ever before. Jenny's team can then take this data and use it side by side with the telematics data for each vehicle to identify transactions that seem out of line with the vehicle's fueling or maintenance patterns.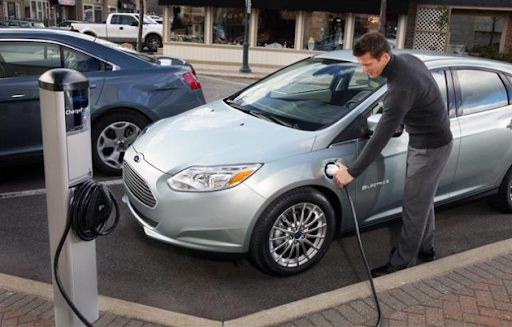 As the federal fleet shifts to electric vehicles, Jenny and her team are researching options for handling this new fleet and its unique needs.
Looking toward the future allows Jenny more opportunity to innovate. She is currently researching how to make the payment process more agile so it can quickly adapt to new systems and technologies. As the federal fleet shifts to electric vehicles, Jenny and her team are researching options for handling this new fleet and its unique needs. GSA Fleet's mission is to provide the right vehicle at the right price with great service. Thanks to GSA Fleet, Jenny, and the team, GSA is able to deliver that value.