For Public Service Recognition Week and beyond, our posts are highlighting the hard work of public servants across federal, state, and local governments. Join us in celebrating how their efforts make the everyday and the extraordinary #GovPossible!
This week, we're featuring Sarah and Garrison Anderson, siblings who both work for the Federal Government. Though their lines of work are vastly different, they share a common value of public service. Read on to learn more about how this sister/brother duo found their way into government work!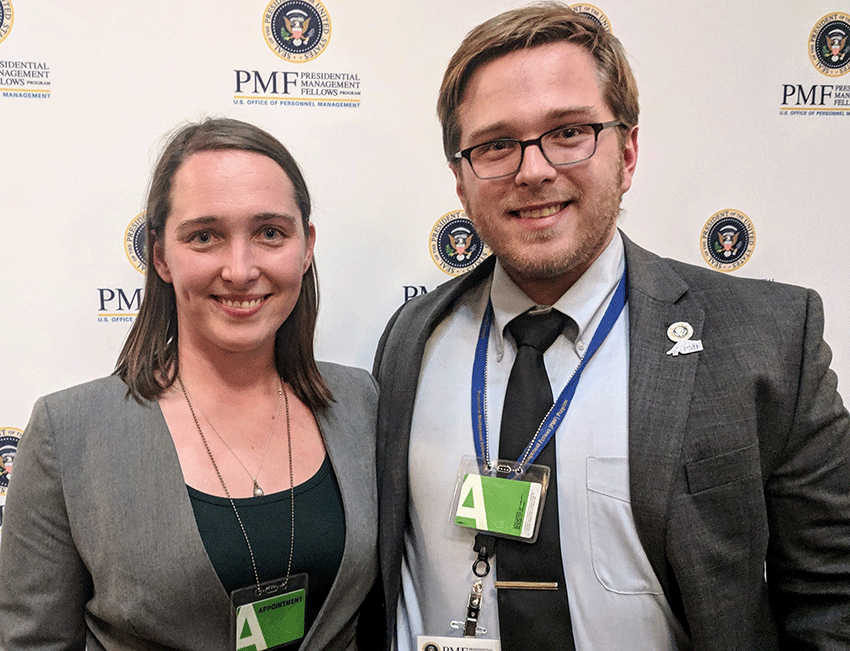 Siblings Sarah and Garrison Anderson, pictured at the Presidential Management Fellows Leadership Development Program Conference in 2018, have long shared a bond over public service.
Growing up in Amery, Wisconsin, siblings Sarah and Garrison Anderson learned the value of public service early on in their lives. A common topic around their family dinner table was service and community. "Our parents really encouraged volunteerism," Garrison explained. "We'd get up every Saturday morning when we were kids to go volunteer at a food pantry." During their high school years, the Anderson siblings spent a week each summer volunteering with Habitat for Humanity to build houses in towns throughout the Midwest. These volunteer opportunities "instilled the responsibility to help my broader community, contribute what I can, and fulfill my civic duties," Sarah shared.
"Volunteering made me feel that I was investing in my community to improve it," Garrison said. "I think having that mindset at a young age just naturally impacted the types of career paths I wanted to pursue." Both Sarah and Garrison knew that they wanted to do impactful work, and set out to make that happen.