Parting is such sweet sorrow, but we're not leaving you high and dry! It's a wrap for our 5th annual #FedFashionWeek campaign, where we've sparkled and strutted our way across government to showcase the faces and fashion behind incredible public service work.
Thank you to the agencies who gave new meaning to #OOTD (outfit of the day) from September 9-16. We're grateful for your everyday service and for joining the fun this year with the Performance.gov team.
Originally shared on Twitter & LinkedIn, walk down the runway with us to see some highlights from the Performance.gov team & many others at this year's catwalk. One thing is for sure, public service never goes out of style — check out the #FedFashionWeek hashtag to see why!
Bureau of Land Management (Styled by the Bureau of Land Management and the Performance.gov team)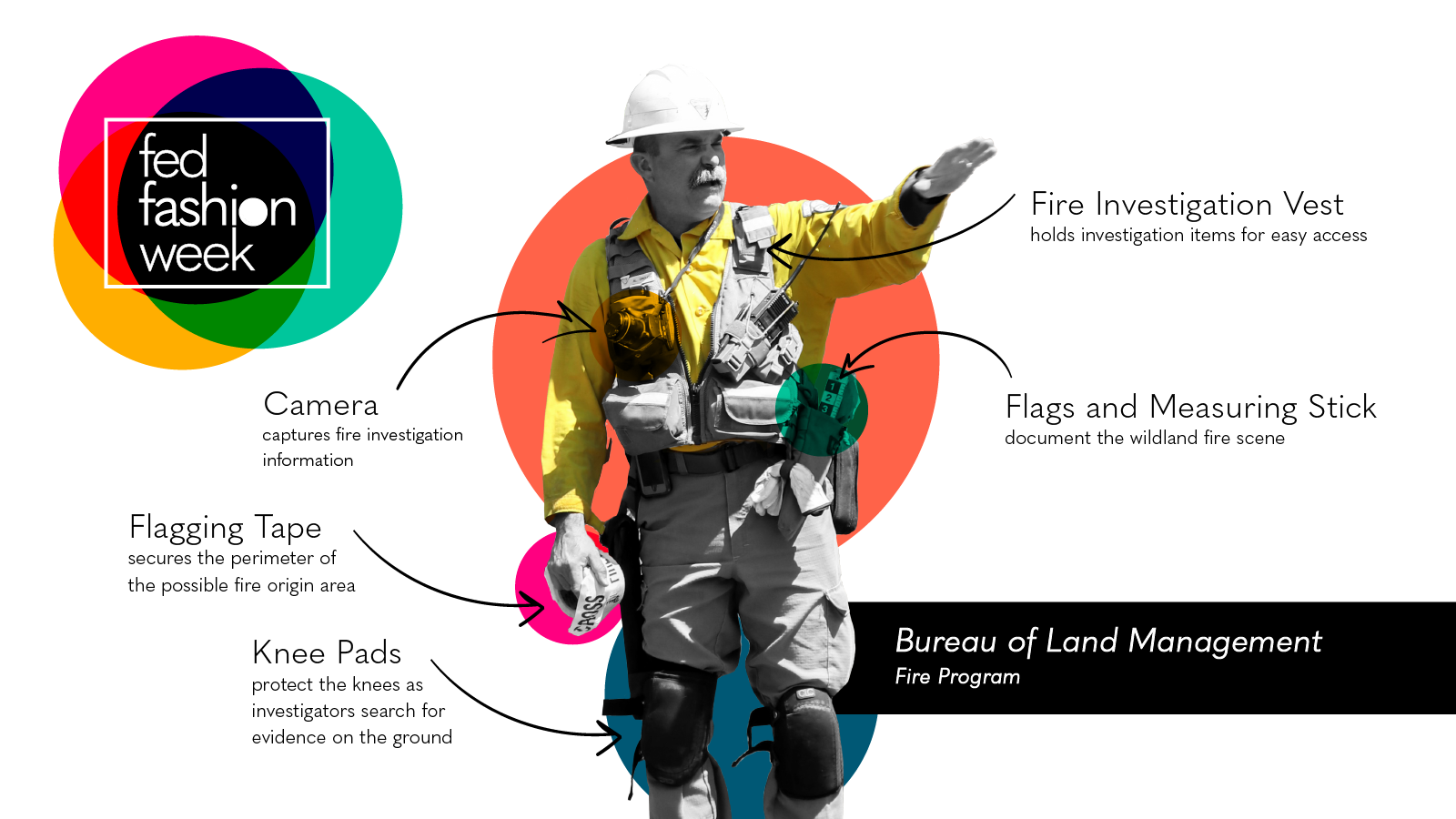 BLM's customized graphic for #FedFashionWeek 2022 serves us outerwear and safety essentials that help protect the Fire Program team and the public.
 
AmeriCorps (Styled by AmeriCorps and FEMA Corps)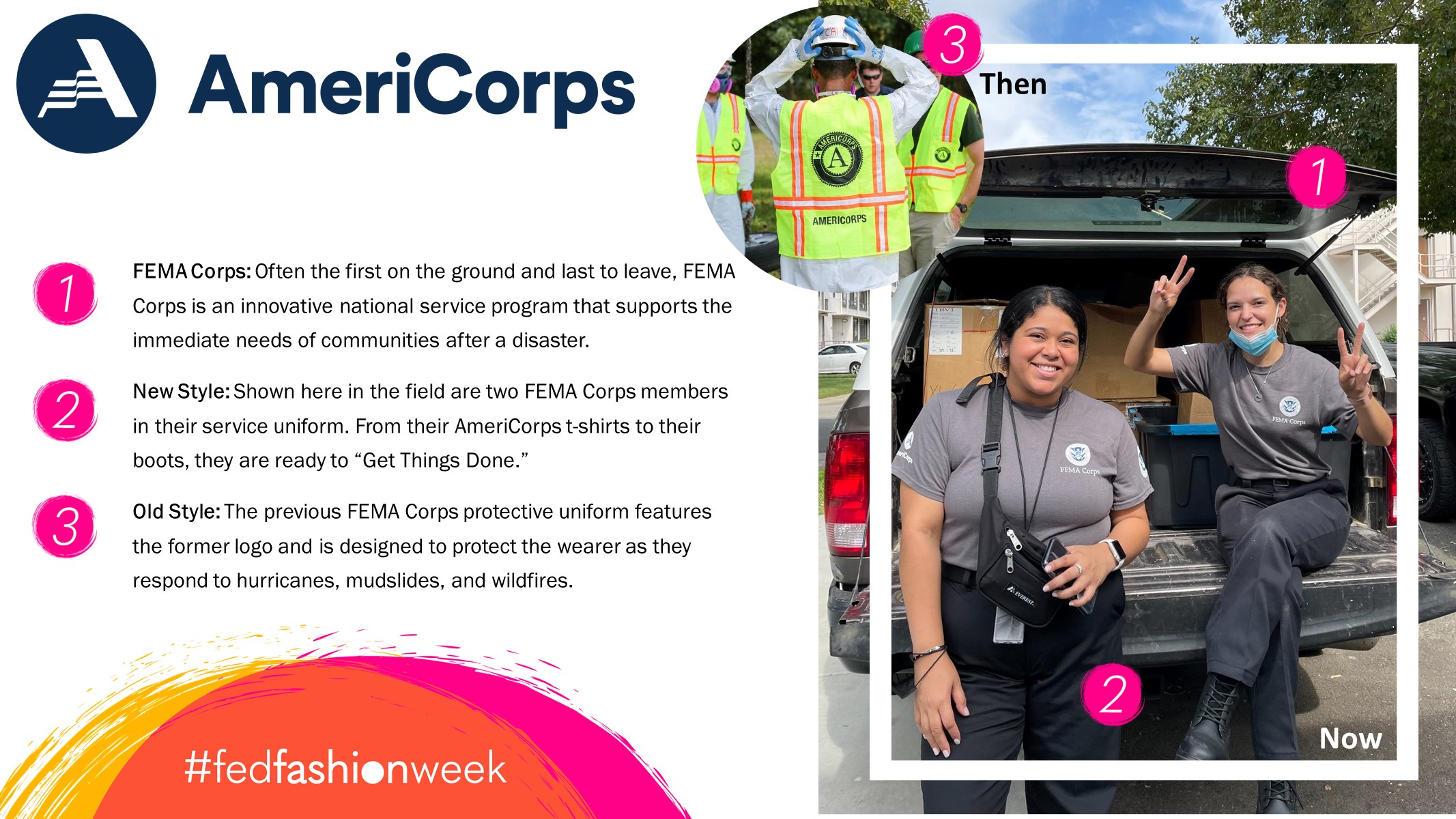 AmeriCorps celebrated FEMA Corps' 10th anniversary with their own Fed Fashion Week graphic feat. AmeriCorps members and the many uniforms they wear to respond to emergency disasters across the nation.
 
National Science Foundation (Styled by the U.S. Antarctic Program and the Performance.gov team)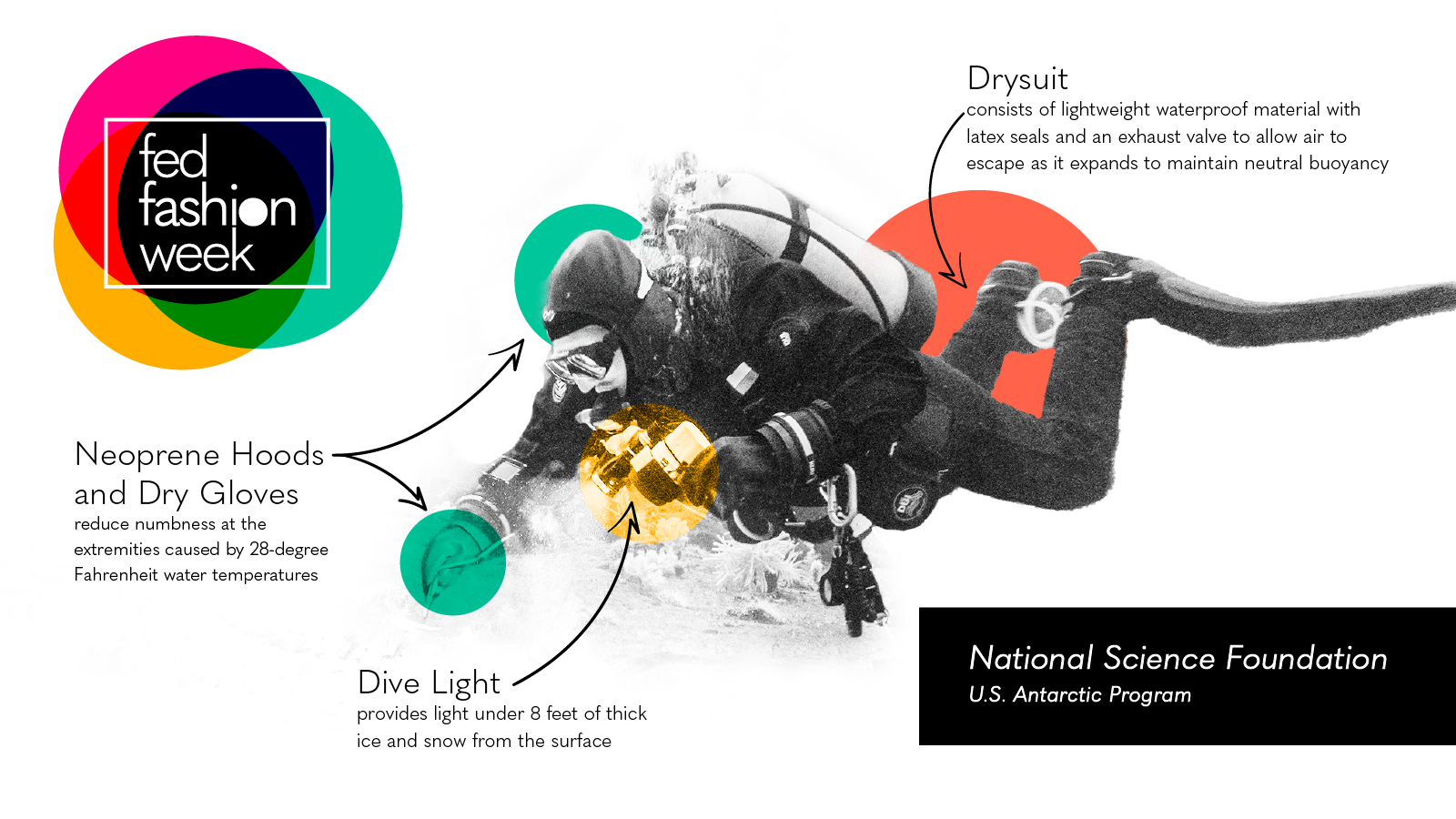 Ph.D. student Aaron Toh conducted research funded by the National Science Foundation at McMurdo Station, Antarctica. Check out the full #FedFashionWeek 2022 blog post featuring Aaron Toh and the team's research on marine animals that live in the Southern Ocean surrounding the continent of Antarctica.
 
Environmental Protection Agency (Styled by the EPA Office of Research and Development)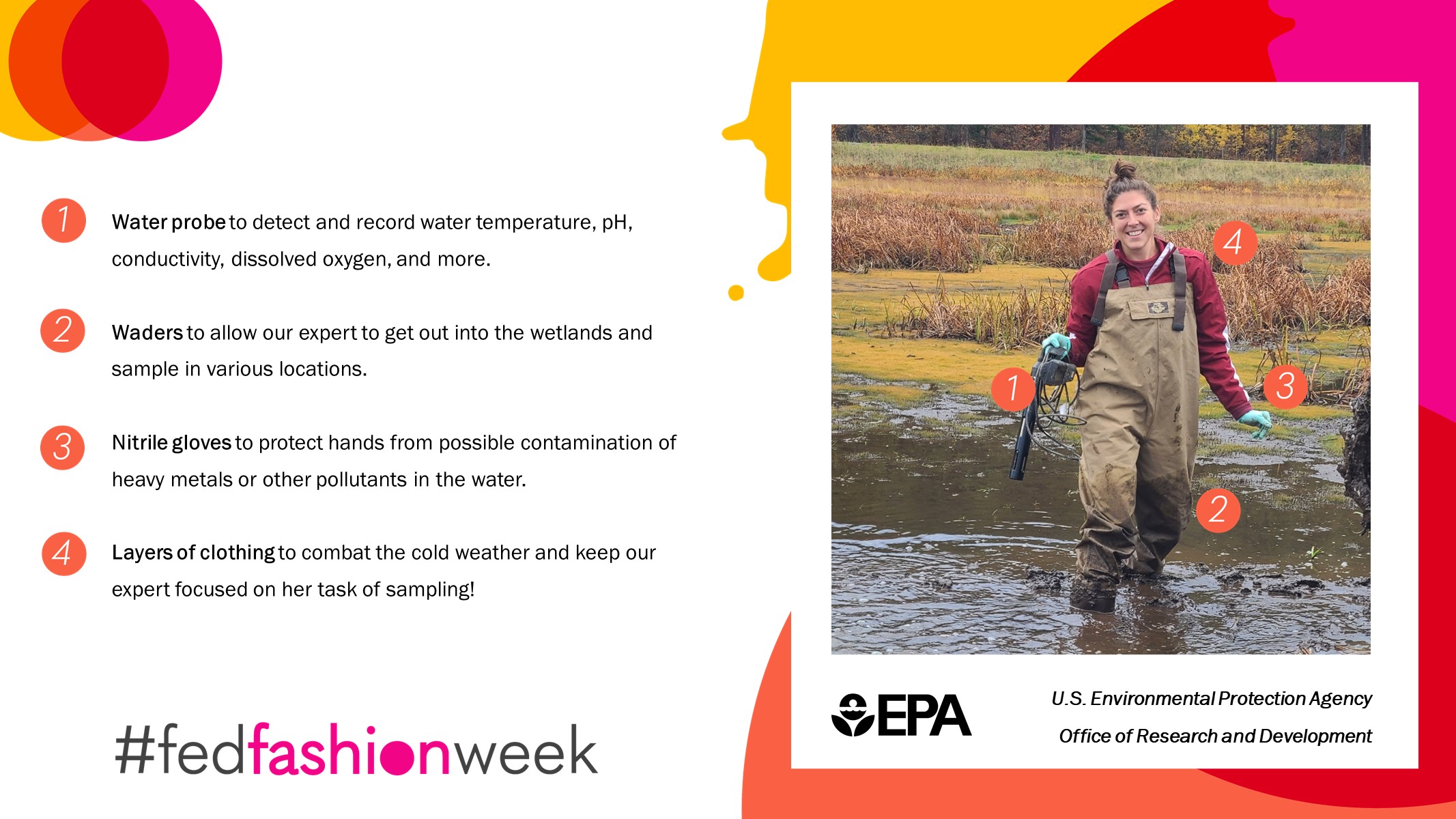 EPA biologist Amy Schwarber showcases a fashionable water quality probe. Its fully functional abilities allow biologists to measure water temperature, pH, conductivity, dissolved oxygen, and more.
 
United States Department of Agriculture (Styled by the Food Safety and Inspection Service Veterinarians)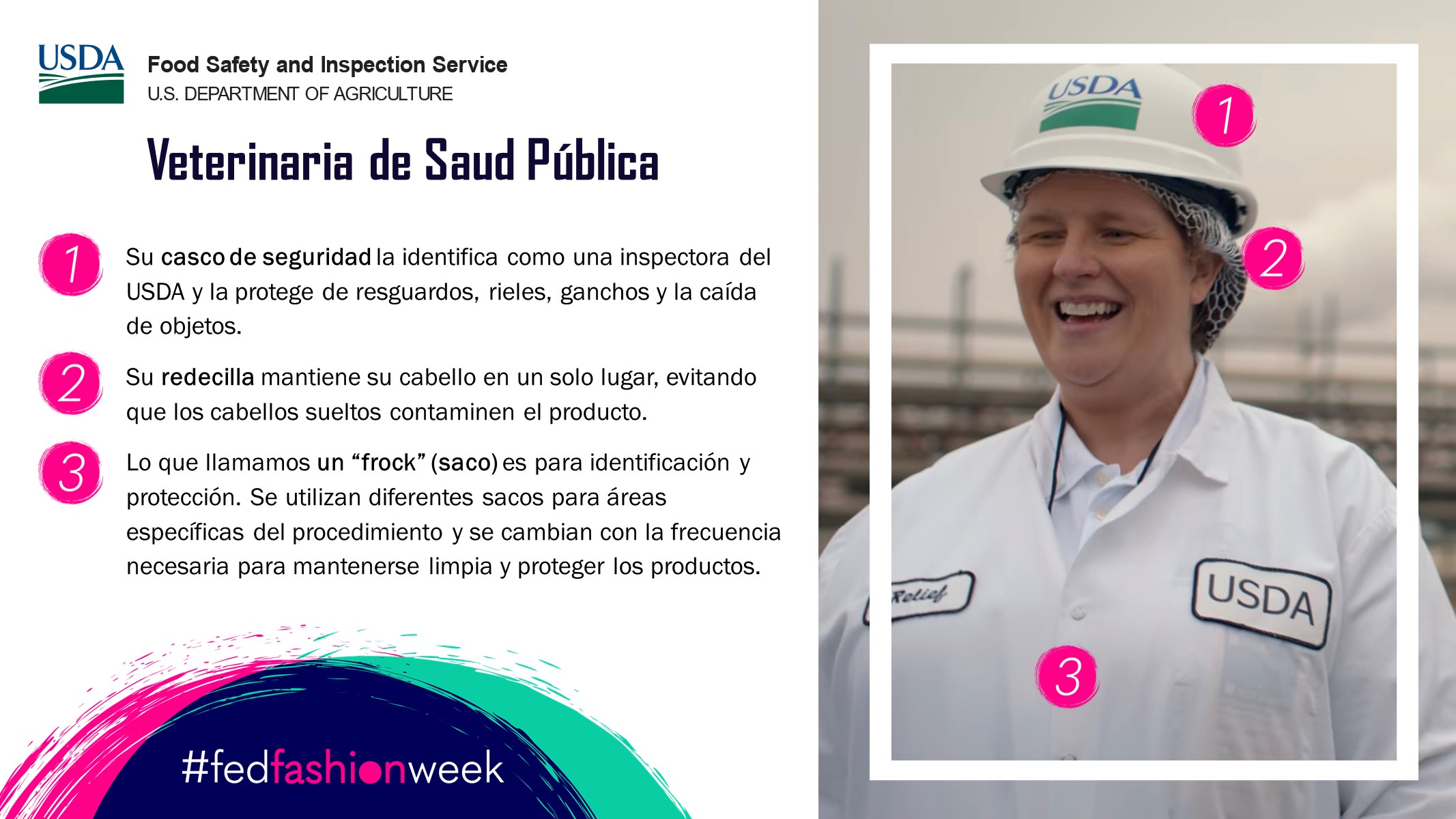 Here we have Food Safety and Inspection Service (FSIS) veterinarian, Dr. Angela Brokman, flaunting safety gear and a bright smile as she shows us how FSIS upholds its commitment to ensuring food safety!
You may recognize Dr. Angela Brokman as being featured and interviewed by Adam Conover in "The G Word" Netflix series. Read here for more!
 
U.S. Patent and Trademark Office (Styled by USPTO Patent Examiners)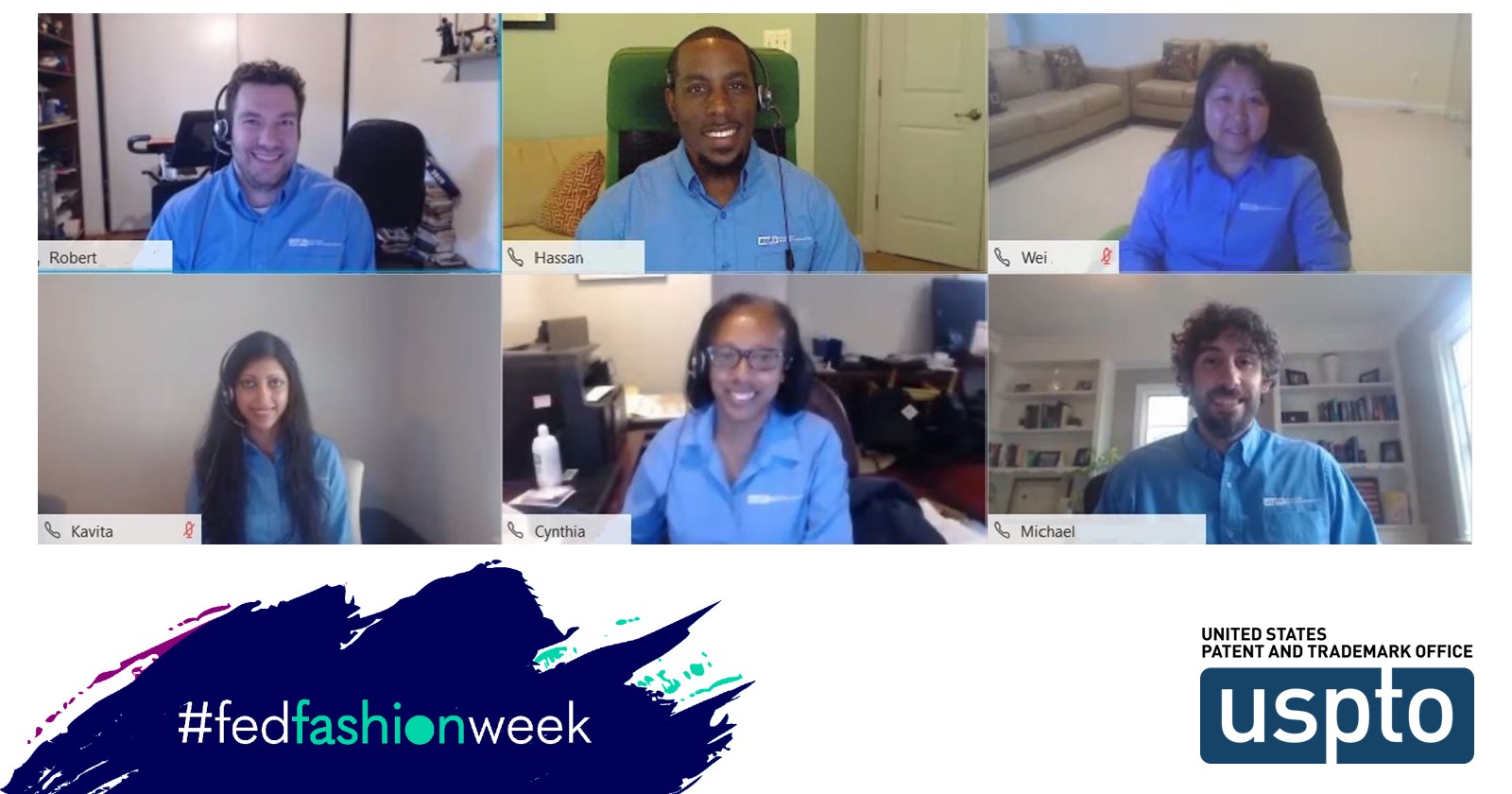 USPTO Patent Examiners show us that "brilliant in blue" is the new "pretty in pink"–at least for the top minds in STEM and engineering who ensure American intellectual property stays protected.
 
Learn More
Interested in other collaborations with us? Want to participate in next year's #FedFashionWeek? Connect with us at pgovsupport@gsa.gov!